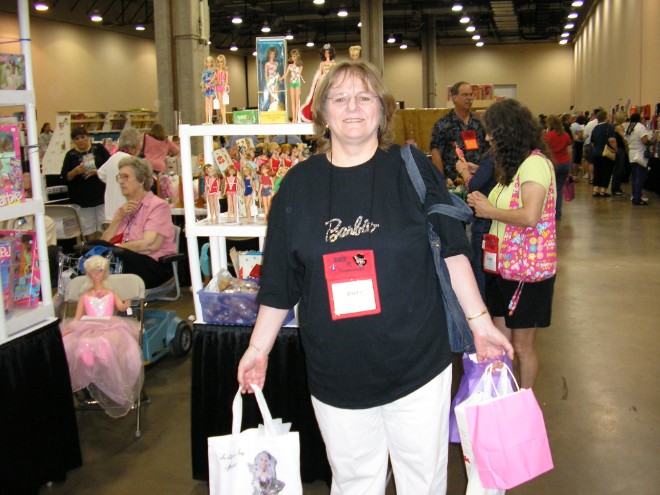 2007 Barbie Convention Salesroom - Dallas (Grapevine), Texas
How to Buy Barbie
There are many ways to purchase Barbie related items. In this section, we will list some of the best resources we have found. You should always buy with care and use a safe payment option.
Buying in Person:
Many people prefer to buy in person. This allows you the opportunity to inspect the items you are purchasing personally. However, many collectors don't have a great deal of local options.
Doll Stores
Some of you may have a local doll store. You can do a search online at the Barbie Collector website for Gold Label Dealers by state. This list has not been updated by Mattel in a long time so you may have to do some checking to find stores still open. It is often a good idea to ask other collectors for their opinions about the stores. Make sure you check their refund policy before buying. Many do not provide refunds and only offer store credit for returns. In the past, there were some doll exclusives that were only sold at Gold Label dealers. For instance, in 2011 there was an dealer exclusive Francie doll. Along with Barbie Collector, dealers were also the only other source for the Basics Metallic dolls. We have not seen those kind of exclusives in many years.
Mass Merchandisers
For those of you without a specialized doll store, check your Target, Walmart, or Kmart. The availability of collector dolls varies by location. In North Carolina, the Super Targets carry a small line of collectibles. Some Wal-mart stores have collectibles while others have removed them from the shelves. Kmart has also started carrying collectibles in some locations.

Close-out Stores
Stores like Big Lots, Tuesday Morning, Marshalls, Ross, and TJ Maxx sometimes have some good deals. Big Lots and Tuesday Morning advertise their big doll sales and you can sign up on their sites to have their sales emailed to you. If you know the item number of the doll you are looking for, you can use the free Store Locator number to search nearby Tuesday Morning stores. Check doll forums for the item numbers. Collector sightings at Marshalls, Ross and TJ Maxx are more rare.
Doll/Toy Shows
Doll shows were once the main resource for collectors. Unfortunately, many of the shows are no longer featuring many Barbie dolls and instead focus on other collectibles. The dealers do tend to charge more than you would pay on eBay but can be a great resource for items that are either large and heavy or of lower dollar amount and you don't want to pay for shipping.

National Convention
Even if you don't officially attend the National Barbie Convention, you can still come for the shopping. On the last day, the salesroom is open to the public. There is an admission charge. You can also come by earlier in the week for room shopping. Some people sell items in their hotel room. We have found that room sales tend to have some of the best prices but the salesroom has a huge variety of items for sale. You need cash as many don't take credit cards or checks.
Mini-Conventions
Some Barbie clubs host mini-conventions through the year where they have a salesroom.

Garage/Yard Sales
Check those newspaper ads for local sales and watch for those posters in your neighborhood. You never know what you might find but you do have to go through a lot of junk sometimes to find a real treasure.
Thrift Shops
Do you have a Goodwill, Salvation Army, or other thrift store in your area? Check them regularly for dolls. We have found vintage dolls for very low prices.
Craigslist
You can search or post an ad on Craig's List and then go in person to check out the items. Many of the prices are higher than you will find on eBay but you can find some good deals. It is especially helpful if you are buying large, bulky items like a Dream House. Make sure you arrange to meet in a safe location and thoroughly inspect the items before paying.
Buying Online:
Doll Stores
Many doll stores have an online presence and some are only online. Check the Barbie Collector website for a list of Gold Label Dealers and ask other collectors for references. Make sure you read all the terms and shipping costs should be thoroughly disclosed.
Mattel
You can buy directly from Mattel at Barbie Collector. We recommend becoming a Barbie Signature Member at the Barbie Collector site if you plan to buy regularly from them. You pay $19.95 for gold membership and $34.95 for platinum membership. You receive quarterly rewards to use towards purchases and free shipping as well as access to online boards, exclusive dolls, early access to dolls and exclusive content like designer videos.

Mass Merchandisers
Your favorites often sell more dolls online than in the store. This is the case for Target, Walmart, and Kmart. You should also check out Amazon, Kohls, and Entertainment Earth for sales. Check those shipping charges and refund policies. Target offers cardholders a 5% discount and free shipping on orders. Walmart offers free store pickup.

Auction sites (eBay, Amazon, Goodwill)
Auction sites can have some of the best selections. eBay is the one with the most listings. You can set up saved searches and then eBay will email you every time a related item is listed. You can also browse the listings and do searches by title and description.
Be careful - you are dealing with individual sellers. Some are better than others at clearly detailing their items. Ask questions when in doubt. Watch those shipping costs. Look at completed auctions to see what price is right. eBay offers Buyer Protection but always use a credit card through PayPal to pay to give you additional security.
Goodwill has a site www.shopgoodwill.com. Individual stores offer items for sale. The shipping costs can be quite high so make sure you check before bidding. They also don't give very detailed information on the condition of the items.

Online Boards/ Posting Sites/ Facebook Groups
There are many online doll boards and lots of doll groups on Facebook where you can share information and some of the posters offer items for sale. It is important to get references and use a credit card through PayPal to pay for your purchases. Don't use the friends and family option or you lose your protection. You are dealing with individuals at this site so make sure you check out their policies and references.
Etsy offers many custom made outfits and other crafts. Most sellers accept PayPal but not all do so proceed with caution.