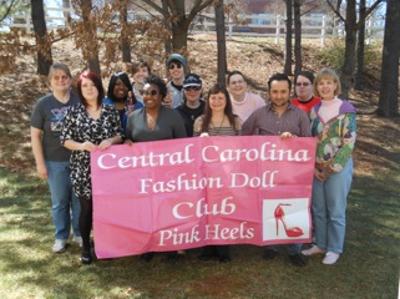 Meet (Some of ) the Pink Heels
Annette - I've been collecting Barbie for about 15 years. Although growing up in the 1970s I owned an original 1964 Swirl Barbie and a Fashion Queen Barbie, I wasn't into collecting Barbie until the late 1990s when I first saw collector dolls displayed at a ToysRUs store. I still remember the thrill of my first purchase, Jewel Princess Barbie, and then the excitement of sifting through the boxes of each new release of Fashion Avenue clothes. My current Barbie collection is an eclectic 300 to 400 dolls plus many drawers of clothes, accessories and furniture. My Barbie interests are the Fashion Fever line, designer dolls and modern fashion dolls. I like to redress, re-body, and pose dolls for pictures. In 2011, I was lucky enough to serve on Mattel's Barbie Collector Advisory Committee - a once in a lifetime Barbie experience. The online doll community and the CCFDC Pink Heels have fostered my collecting immensely. I am so thankful for both.

Bradley - I have devoted most of my adult life to my hobby. I love antique French fashion dolls and cloth dolls from my home state of North Carolina and have recently returned to my original passion, the Barbie doll. I have collected Barbie since age 12, and focus my collecting on vintage Barbie. I have curated three museum exhibits with Barbie as the subject, as well as written and provided many programs on the subject. I am a founding member of the Queen Anne's Revenge Doll Club as well as a member of three additional UFDC doll clubs and currently devote much of my time to my store in Chapel Hill, North Carolina, The Swell Doll Shop has vintage and modern dolls and I also teach workshops on doll costuming.
Eddie - I got my first Barbie at Christmas in 1991, she was Bathtime Fun Barbie. Before her all the dolls I played with belonged to my sister, but this one was mine and all mine! While that particular doll would eventually move out of my life, Barbie in general never would. As I grew up and learned more about Barbie I found myself drawn to the vintage dolls. When I went to college Barbie took a back seat for a while. Luckily she was waiting for me when I came back. I still had my childhood favorites, and the few vintage dolls I had accumulated at that point. Over the past few years my collection has really begun to blossom. I've managed to add dolls to the collection that I've never dreamed of owning. I guess that proves with Barbie, anything is possible

Joyce - The happiest time of my childhood is when I had my Barbie and Ken along with their genuine Mattel beautifully made clothing. The Barbie and Ken were given to me when I was about ten years old. I started collecting dolls in the mid 1980's when I lived in New Orleans. I never thought of adding Barbies until my daughter, Linda, started collecting them in 1989. Once I started collecting Barbie, it was very difficult to stop adding more to my collection. I especially love silkstones and custom designed outfits.
Linda - I have loved Barbie since I received my first doll at the age of three. I could not get enough of the glamorous accessories and all that beautiful hair to style. I had no idea there were collector dolls until I saw the 1989 Holiday Barbie for sale. I had to have her. In 1990, I bought the first Bob Mackie doll and was officially hooked on collecting. eBay has enabled me and I now have all my childhood dolls as well as vintage and foreign editions. My favorite type of dolls are brides and bubblecuts. I really enjoy restoring dolls too.

Lisa - I started collecting Barbies when I saw a picture of the 1988 Holiday Barbie. I just wanted to have a beautiful Barbie. I went to the store to purchase her and was horrified that I would be paying $26 for a Barbie! There were about 25-30 on the shelf. I wish I had bought them all! I did not have a Barbie growing up. My parents didn't have the money for them. My next door neighbor had every Barbie and all the clothes, house, etc. I played with hers. In the early 80's, I mentioned to my former husband that I'd never had a Barbie before. He bought me "My First Barbie". I still have her. The second one he bought was Astronaut Barbie. My collection has grown since that time. I collect mostly Pink Box, but have some designer, collector and OOAK (one of a kind) dolls. I am a NRFB collector. However, I have removed some if I have duplicates or I am giving them away and they will be redressed. I've been going to the Barbie Convention for 11 years, with the exception of Kansas City. Barbie Collectors are some of the best people I know.
Liz - I began my Barbie collection when I was about 5 years old. My Grandmother took me shopping to give my Mother a break. Against strict instructions we went to the toy store. When we left I had a Barbie (brunette bubblecut), a Midge (redhead) and two outfits! I thought I had died and gone to heaven! I collected Barbie's all the way through High School. I took a break and then started collecting again in the 1980's. My favorite items to collect are vintage Barbies and the Dolls of the World series.
Theresa - My favorite Christmas was 1965, the year Santa gave me my first Barbie. I awoke that morning, and like all children, rushed to the Chirstmas tree to see what Santa had brought. To my surprise, I found a box picturing a stylish teenage. Curiously, I opened the box and was astounded to see a beautiful teenage doll with a brunette bubble cut. It was a magical moment. I can still see the aura of light surrounding her. Looking back, my only regret was that I lived in remote Alaska. Stateside, I would have had a Barbie much sooner! Every Christmas, Santa would bring at least one Barbie and I always looked forward to receiving the latest doll. Barbie inspired me to learn to sew, design, and just be creative. That abruptly came to an end in 1972 when my parents decided I was took old for dolls and all by beauties disappeared. Well, I have gotten even. I now collect Barbie. It became a full blown manifestation when my daughter was born in 1997 and I haven't looked back. At first, I told myself I was purchasing Barbie for my daughter but that came to a halt as soon as she wanted the dolls out of the box. I knew then that I was in the deep end of Barbie collecting. I still love to sew for Barbie, craft for Barbie, and design for Barbie. I love vintage Barbie and the latest Barbie. In fact, I love all Barbies with the exception of the big feet swimsuit Barbies (shame on the designer that came up with that idea). Best of all, I can now visit with my club members and talk Barbie. Barbie club members are the most fascinating people with their varied backgrounds, skills, and careers. World peace would be possible if everyone collected Barbie.