National Barbie Convention

SPECIAL NOTE:
The 2021 convention in Palm Desert, CA opened up on 9/12/20 for registration. You can register and be notified if space is available once they begin to process registrations and request payment.
The theme is Barbie X Ken. It will be held at the JW Marriott Desert Springs Resort and Spa.
Early registration is $425 and the hotel convention rate is $149 per night plus a $10 per night resort fee.
The convention is limited to 800 spots.
Go to http://www.barbieconvention.com for the online registration form

Every year, the National Barbie Doll Convention is held in a different city in the United States. It is held in June or July and occasionally in August. We encourage every collector to attend. It is an amazing experience.
In recent years, they have limited the convention to around 800 attendees so it does fill up fast. Check the website for the Barbie Convention usually around July for information on registration. Registration for the next year starts immediately after the prior year's convention is concluded.
The registration form is posted on the site as soon as the registration period opens and they will add you to the wait list if you do not get immediately selected. They also offer a green option now at a reduced price where you receive all of your communications online. Pricing is based on how early you register, the rate goes up as the deadline for registration gets closer. After you register, you have to wait a few months (or so) for the registration book that will provide more details on the events. You also will receive information on how to book a room at the convention hotel. We encourage you to make reservations as soon as the hotel block opens up as rooms have sold out several times lately and some attendees have had to stay at an alternate hotel.
There is a Google group set up each year so that attendees can share information and get tips. There is also a Facebook group. One of the most talked about topics tends to be table gifts. In the early years of convention, people volunteered to host a table and provided the gifts to the people at their table. In more recent years, the convention provides great gifts but table hosts still tend to bring gifts for their table mates. The members of the table also tend to bring gifts for each other and some provide their hostess with an additional gift. There are ten people at each table. Some people provide a gift at each table event (usually three events but occasionally four) and others provide one gift. It is not a mandatory practice but has definitely become a customary one. These gifts do not have to be expensive. Many are homemade, some represent their home town/state/country and table hosts giving custom dolls has become quite common. We encourage small gifts as they are easier to transport home with the new baggage costs.
In addition to scheduled events like the fashion show, raffle room, competition room, workshops, meal functions, and the salesroom, there are also many unofficial activities. Our club hosts the Southern Event every year. We invite anyone interested to join us for a meal. We have hosted breakfast, lunch and dinner events since 2011. Some doll artists host parties and room sales are so much fun. People interested in selling from their hotel room, post a sign and you can then spend hours checking out all the items for sale. Room sales begin the weekend before convention and end on Wednesday night before the salesroom opens on Thursday. Some use the room sales to purchase their table gifts.
Southern Event
Our club sponsors a special event at Barbie Convention called the Southern Event. It is a great chance to meet others and have a good meal. You get the chance to win lots of prizes too. Registration information is posted usually in January or February and seating is often limited so it fills up fast. You can use the Contact Us form to get information on the event.
Upcoming Conventions: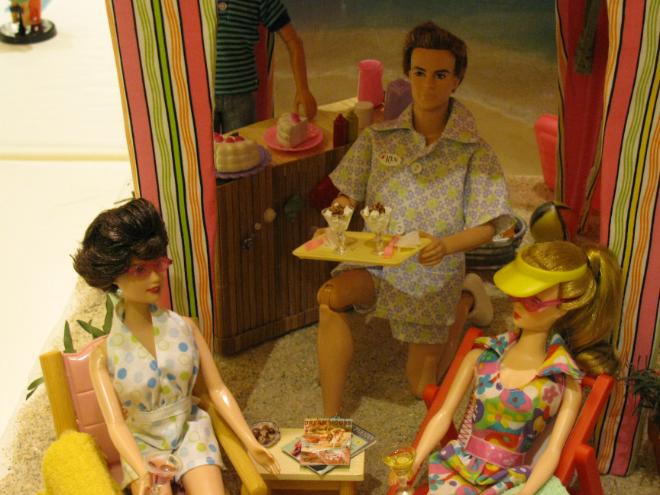 In 2011, Lisa, entered into competition for the first time and won a ribbon for her beach diorama
The 2011 National Barbie Doll Collectors Convention was held in Ft. Lauderdale, Florida at the Harbor Beach Marriott Resort & Spa from July 27, 2011 through July 30, 2011. Ken turned 50 and celebrated with Barbie.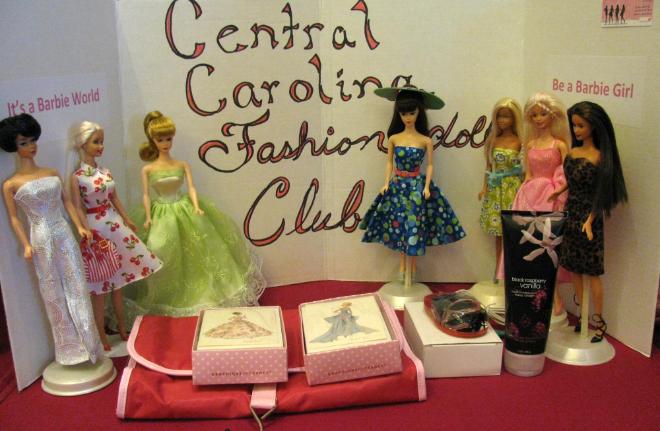 Our club donations to the raffle room featured dolls restyled by club members as well as fun Barbie gifts.

One of our club donations to the raffle room in 2010 was a Southern Sensation Gift Set pictured below: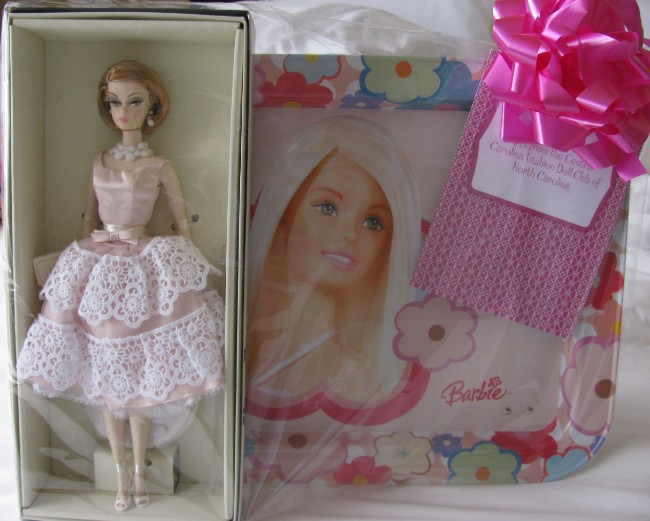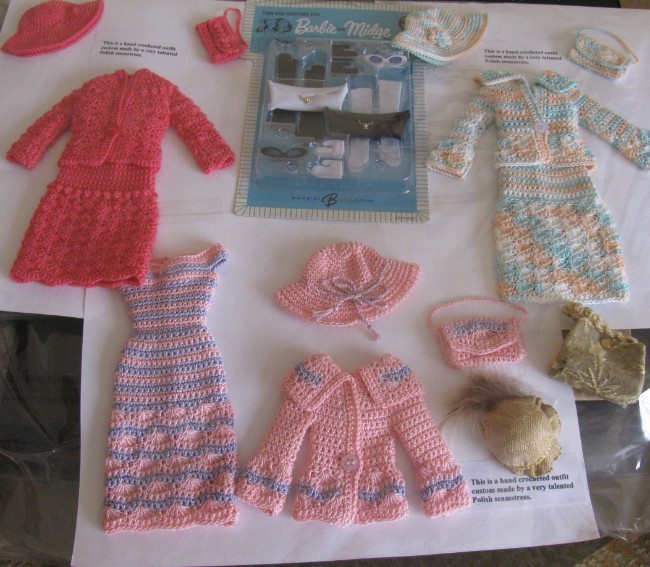 Other Doll Conventions in the United States
The International Fashion Doll Convention is held every July in Las Vegas, Nevada. It has a lot of fun events and a great selection of dolls for sale including Barbie, Integrity, ball-jointed dolls and foreign editions like Momoko. In addition to the salesroom, those who have attended recommend the $15 salesroom where everything is $15 or under and you pay admission to attend. There is a fun slots tournament and a bowling tournament as well as workshops. The convention provides exclusive dolls from Integrity. The official convention doll is provided with your convention fee but there are opportunities to purchase a companion doll and a salesroom doll. For those sensitive to smoking, the hotel rooms and the convention area are smoke-free but you have to go thru the casino to reach them which does allow smoking in most areas.
International Conventions
Many other countries also host Barbie events. Canada used to hold a convention ever year. There are conventions in Australia, Brazil, Japan, Spain and Italy as well as events in other countries. There is also a doll convention in France every that includes Barbie as well as other dolls.